Questions waiting candidate Answers - An all candidate political forum was hosted by the chamber of commerce on Tuesday, April 21st and there were questions from the public that were written and presented but not read to the candidates. The candidates have received the following questions and the chamber is waiting their answers. Once received the answers will be posted here:

All Candidates:
1. If as a senior I do not have computers or an on line email how would I take part in government surveys?

Reg Lukasik Answer:
Surveys of any type administered on line or by phone have built in biases. They are biased against seniors, the poor, transient folks, and those without a landline. Good research means using a variety of techniques to gather information. I would provide the option to call in and have you receive a mail in survey, or tell the caller your responses to the questions being surveyed.
Brendon Greene's Answer:
I think MLA's should host monthly town hall meetings to give not only seniors but everyone a chance to take part in surveys without use of the internet. Sending out letters can be bothersome, many senior centers ask for no soliciting and we might waste a lot of paper asking for surveys from seniors who actually do use internet.
Jaye Walter Answer:
Government surveys should ensure accessibility for all its citizens in order to achieve the best fit between the ideas of the people and government policy. I appreciate that not everyone owns a computer or has internet/email access and important feedback is lost. Seniors in particular may be visually impaired and may require large print materials. Accessibility also means providing alternative venues from which to participate. I believe that Government surveys should be made available over the telephone, or electronic or hard copy forms at community hubs such as public libraries and constituency offices. If I were the MLA for Spruce Grove - St. Albert, I would advocate accessible alternatives for collecting survey responses.
Gary Hanna Answer:
I would hope that a paper copy of the survey would be supplied to all senior centres, hospitals, extended care, and other facilities in the province. This would allow those that do not have access online could still participate in surveys and have their voices heard. I would hope that ministerial staff would be directed to accomplish this and collect and collate this material to present to the legislature. The Alberta Party is actually pushing for a seniors advocate in every institution. Someone who can bring the questions, ideas, and concerns of seniors directly to their MLA's.

2. What are your views on home schooling and why do you thing government is forcing kids back to public and separate schools?

Reg Lukasik Answer:
I am not aware that parents are being forced to educate their children in the public or separate system.
Brendon Greene's Answer:
I absolutely believe that home schooling is an essential part of our education because it represents our right to choose our children's education. We have to freedom to educate our children in whatever way we want. Imagine if everyone had to attend a religious school, or a public school. Political parties have no right to force kids into any school, if they include that in their platform, don't vote for them!
Jaye Walters Answer:
Home schooling has been successfully practices in Alberta for as long as I can remember. And I believe that it is an important option for parents and their children. Consistent with my belief, Wildrose holds education as a high priority and champions the diverse forms that formal education can take.
Gary Hanna Answer:
I am pro-choice when it comes to parents educating their children. I believe homeschool is a great place for children to be taught. Not every child leaners best in a classroom environment. I do not think political parties or the government are forcing children into mainstream classrooms, at least I've not heard of this. If it is a funding question, cuts are being across all education, both regular and non-traditional. The bigger issue is to stop these cuts, as it will have a negative impact on kids, period.


3. How much time do you believe it required to be a successful local MLA?
Reg Lukasik Answer:
I think being an MLA is a full time job.
Brendon Greene's Answer:
It is more than a full time job, it is a lifestyle. You represent the people. An interesting document entitled "What are the roles of representatives?" states that some MLA's get up early as 4:00 am to get through some of the paperwork. It also includes an example of a daily schedule for MLA Brian Mason demonstrating a typical day in the life of an MLA.
Jaye Walter Answer:
I believe that representing constituents in the legislature, spending time with constituents (of all political persuasions) and learning about and addressing their needs and opportunities requires a full time commitment. It is the constituents who ultimately judge my success - and I promise to work very hard for my constituents to earn and maintain a solid reputation.
Gary Hanna Answer:
I believe an MLAs job is a full time job. I would resign my position as a teacher and the President of Parkland Teachers Local #10, in order to do my job properly. I plan on being very active in the community I serve on a daily basis, and not just for photo ops. I take the job of serving the people of Spruce Grove/St. Albert very seriously, and work tirelessly to promote this area, and show people what a great place it is to live and work here.

4. How many hours per week do you available to properly do your job and represent the people of Spruce Grove & St. Albert?
Reg Lukasik Answer:
I am retired and if elected being an MLA will be my full time job.
Brendon Greene's Answers:
I teach music for 25 hours per week so I have more time than the average person who works 40 hours a week to represent the people of Spruce Grove - St. Albert
Jaye Walter Answer:
I put my name forward to be the MLA of Spruce Grove - St. Albert knowing what it will take to be an excellent representative of the people. In my post secondary years and as a financial planning professional, I know first hand that excellent performance is achieved through hard work and dedication. As you MLA, serving my constituents is Job 1 - and would not be confined to a set number of hours per week.
Gary Hanna Answer:
Since I would be working full-time as the MLS for this riding, it would encompass as many hours per week as required to fulfill my duties as MLA I'm not sure what that would be until I got the Job, but, whatever it is, I would work very hard to reach my goals for being your representative in the Legislature.
Specific to Rus Matichuk:
1. Before Christmas in the Edmonton Journal it was mentioned there was 587 million dollars uncollected corporate taxes. Will this be collected?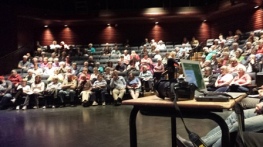 Alberta Liberal Party - Reg Lukasik (Bio)
Reg is a family man living in St. Albert since 1991, and Alberta since 1982. Reg retired as a researcher from Advanced Education in 2014. Reg has been a professor training staff to work with people with severe physical, mental, and developmental disabilities. In his other careers Reg flew over 7000 hours as a commercial & RCAF pilot & flying instructor. Reg & wife Brenda owned Trans Yukon Air, an aircraft sales and leasing business. Over time Reg has proven credentials as an officer, gentleman, leader, man of action and a survivor. Reg has shown himself to be a resilient, caring, and resourceful educator, businessman, and humanitarian. His campaign motto is "listening, caring, acting!".
Alberta Party - Gary Hanna (Bio)
Gary Hanna is a husband and father to three beautiful girls, and has lived in Spruce Grove for the last eighteen years. He holds a B.Ed and a B.Sc from the University of Alberta, and has worked has a high school teacher in Stony Plain for the last sixteen years. Gary is also an entrepreneur, and runs a marketing company that helps local small businesses with e-commerce. Gary has been active in the promotion of public education in Alberta and the teaching profession. He is a proud member of the Alberta Teachers Association, and is presently serving as president of Parkland Teachers Local #10. He has previously worked in the roles as a Vice-president, school representative, political engagement officer, and web manager, for the teacher's local.
Green Party of Canada - Brendon Greene (Bio)
Brendon Greene grew up in his riding in Spruce Grove, Alberta, where he learned early on that music would be his defining passion. Brendon has been teaching music for decades, in schools and one-on-one throughout Alberta and BC. Brendon is 28 years old and believes strongly in citizen engagement and building community. Brendon has long supported the Green Party and he helped organize the 2008 Burnaby - Douglas campaign as a member and financial agent of the electoral District Association. He believes strongly in the six green principles and he is dedicated to engaging and mobilizing the youth. Brendon believes the only way to restore true democracy is through a system of proportional representation, mandatory transparency, and fiscal accountability.
New Democratic Party - Trevor Horne (Bio)
St. Albert resident Trevor Horne is currently studying Political Science at MacEwan University. Outside of his studies, Trevor has spent the past several years connecting with his community through various customer service roles, his work as a fundraiser and in volunteer capacities during the provincial election in 2012 and the recent municipal election. Trevor was also previously involved in Scouts Canada, where he expressed and evolved his commitment to environmental and fiscal sustainability. Recently, Trevor has served as the chair for the MacEwan NDP (since 2012) and as the policy chair for the New Democrat Youth Association (since 2014).
Progressive Conservative Party - Rus Matichuk (Bio)
Rus Matichuk earned a Bachelor of Education with Distinction from the University of Alberta in 1987. After graduating he started an advanced technology company with two brothers. For the next 28 years he held a number of senior management positions and has also served as a chairman or board member for many associations and committees. For the last 12 years he has provided corporate finance advisory services to many different businesses. Rus was instrumental in launching Venture Prize, Deal Generator, Banff Venture Forum, the Alberta Clean Technology Industry alliance Association, and a number of other innovation oriented initiatives. Rus is passionate about family, education and innovation. Rus and his wife Pam have four wonderful children and have lived in St. Albert for 26 years. In addition to having children that have excelled in school, sports and musical theatre, the highlight of his parenting has come through his experiences seeing his disabled son advance in school and at home. Rus want to work to ensure that our region remains one of the best places to work and raise a family.

Wildrose Party - Jaye Walter (Bio)
Jaye Walter was born and raised in St. Albert, Alberta. He graduated from Bellerose Composite High School, in which he received an award for the highest mark in Social Studies. to begin his career path, he earned his Finance Diploma from the Northern Alberta Institute of Technology. For 12 years, Jaye has been professionally working as a financial planner, Upon completing the requirements conferred by the Financial Planning Standards Council fo Canada, in 2007 he earned the designation of Certified Financial Planner, along with many other professional designations. Building on these successes, he continues his dedication of life-long learning. His passion to pursue a career in politics has led Jaye to volunteer with the Wildrose party. He became the St. Albert Wildrose Constituency President for 3 years. To date, Jaye is now the Wildrose Candidate for the Spruce Grove - St. Albert riding. The most important aspect of Jaye's life is family. Jaye continues to reside in St. Albert with his wife Angel and their two-year old son Logan. Outside of professional, political interests, Jaye enjoys reading and golfing and volunteering with a few charitable causes.